Forex Signal Service: OmniForex Signals
Delivery:  Weekly, Daily and Intraday Signals / Automated
Markets: Forex (18 pairs)
Subscription: $4.99 Trial | $99.90 Per Month
Top 10 Forex Signals – OmniForex Signals Review
OmniForex Signals is an automated forex trading signals which in terms of generating trade suggestions for you. The suggestion of trades is generate from analyzes the forex market activity from an historical point of view to identify major current trading opportunities. Their signals work at the financial mathematicians solutions after a lot of years development.
OmniForex Signals will indicate their users when is the good time to BUY or SELL on the forex market. OmniForex Signals provide those signals to their users with weekly, daily or intraday signals using their 3 main forex trading strategies. You don't need to do any forex market research or know anything about the forex market. What you need to do is just take the suggested trade from OmniForex Signals and put them in with your broker and start trading.
For OmniForex Signals 3 Trading Strategies:
Intraday – 3 to 6 trades in a single day with no positions left open overnight
Daily – 1 trade per day
Weekly – 1 trade per week
Just to let you know, OmniForex Signals is not a forex trading ROBOT. That is because peoples always confuse forex signals with forex trading robot. By using OmniForex Signals, it just give you forex signals (trade suggestions) in that 3 main forex trading strategies as we mentioned above. It won't help you trade forex automatically. As a trader, you decide to follow and make the trades or you just continue doing your stuff. From my experience with forex robot, some of them are worst. It can clean my dollars in bank within a few hours after i just clicked the "TURN ON" button. After those worst experiences, i really not prefer to use forex robot in my forex trading journey. They even created few nightmares for me after those incidents, haha.
So, after that, i has discovered some best forex signals. One of them is OmniForex Signals which really give me good R.O.I. Besides that, by using forex signals, the amount of invest is really up to me and  it also depends on broker i used and the leverage they allowed me.
If you are looking for a forex robot which will automatically trading for you, OmniForex Signals is really not for you. By the way, if you are looking for automatic trades suggestion, OmniForex Signals is definitely for you.
How to trade with OmniForex Signals?
OmniForex Signals is a membership subscription type of platform. It could be access from anywhere in the world with Internet network coverage. You don't have to install any software in your laptop/PC to access your picks. Besides that, their website also provide the online chat function which allow you to ask any related questions ask an existing member or new comer.
In overall, 18 Forex pairs are traded by OmniForex Signals:
EUR/USD, EUR/GBP, GBP/USD, AUD/USD, NZD/USD, USD/CHF, AUD/JPY, CHF/JPY, EUR/CHF, EUR/CAD, EUR/JPY, EUR/AUD, GBP/CHF, GBP/JPY, XAG/USD, USD/CAD, USD/JPY and XAU/USD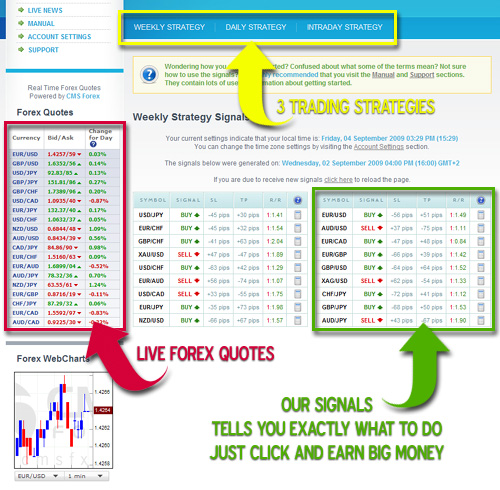 All the major currencies in play are covered by the system are showed in image above.
As we mentioned above, OmniForex Signals provide 3 trading strategies, you can pick which strategy suit you the most. Actually you also can use whichever type you want and switch between them at any time just like how we do in Top 10 Forex Signals.
Conclusion for OmniForex Signals
OmniForex Signals is a very easy and cheap forex signal to try out at the beginning just because it has a 3 DAYS trial period for ONLY $4.99, after which you pay $99.90 a month membership subscription.
Besides that, the most powerful things of OmniForex Signals is they do provide a 60-days money back guarantee via Clickbank, so you're covered there.
$99.90/month might be much for some peoples, but for me, if you have a deposit of 100$ at your broker, and it allows you a conservative 100:1 leverage, this means you can trade up to $10,000. If OmniForex Signals is working for you, the $99.90/month will seem like peanuts.
To be honest, this system is not a "Get Rich Fast" scheme. But it can be if you really lucky at the beginning and spend a decent money on it.
As a conclusion, OmniForex Signals is one of the forex signals provider which generate me a reliable income which i also rank it as one of the top forex signals in our ranking table.
For the trial, it just cost you $5, you really should give it a try!
So, let's see what peoples around the world are saying about OmniForex Signals?